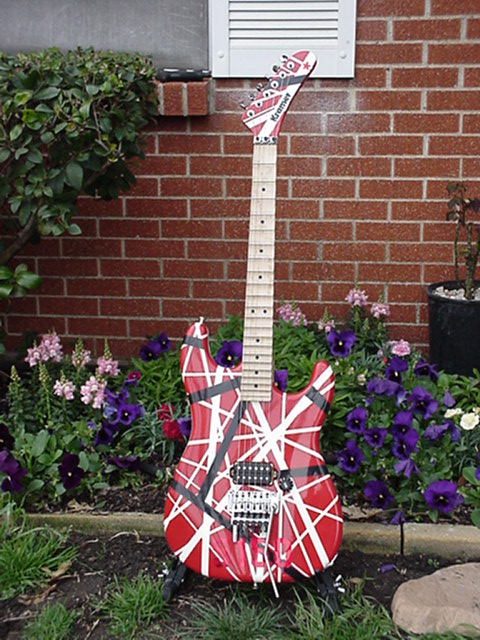 Well, It's finally here. After waiting almost 4 months, I got it in my hands after it passing through all these other experienced hands to build this thing I have today.
Specifications:
The neck and body were made by Warmoth Guitar.
Body: Strat Body
Wood: Hard Ash (2 piece)
Pickups: XXH (To Wood) (Single Humbucker)
Bridge: Non-Rec. Floyd, VXXX, 7/8S/J,SANP
Installed Studs and Inserts for a Floyd Trem.
Pots: One Volume Pot

Pickup: DiMarzio Tone Zone (BLACK)
500K Linear POT with TONE knob for volume control (Just like Eddies)

Type: KWS Neck
Wood: Birds Eye Maple
Frets: 22 - 6100 Full Scalloped
Nut: R4 Chrome Floyd Locking Nut
Contour: Custom WolfGang
Inlays: Black Dots

Ghotto Tuners
Original Floyd Rose Trem
Dunlop Strap Locks
D-Tuna
The Review
How does it play?
Well there is a LOT to mention about this guitar. First of all, the action is so low that it is LESS than 1/16th of an inch with out any major fret buzz. If you don't think that is possible, then come down to Dallas Texas and I will show you. Since the neck is not finished, it is silky smooth. This makes moving around the fret board very easy. There is also a full scallop on the neck. The neck was fitted to the pocket making the best contact to each other. The neck joint and neck alignment are perfect. The sustain is VERY good for a bolt on neck. The paint job is the best I have seen. You can actually feel the stripes. I was comparing the accuracy of this guitar to one of Eddies and it is ON THE MONEY! When you look at the pictures, check out the one with the close up of the guitar shooting from the bottom.
Before I plugged it in, I wanted to get the feel of the guitar. I was so impressed. The workman ship of this guitar is the best. I have a simple riff that I had worked on over and over and never got it fast enough. After playing on this guitar, I was able to almost double my speed. WOW! When I build my next guitar, I will be getting the body made from Warmoth again! In fact, all of them will!
Tone
This guitar has GREAT tone. Reminds me of Eddies old days. It's hard to get this kind of tone out of any guitar, but Doc made it happen. After plugging in and jamming on the guitar for almost 3 hours non stop, I was amazed on the performance of this guitar. Very smooth, full, midrangy sound. Great sustain that makes the lead channel sing in a classy way; not a lot of teeth but nicely crisp and crunchy. Harmonics leap off the neck. This guitar is easy to play because you can feel tones eminating from it. It has a 25.5 scale and the pickup is bolted directly to the body allowing all the tone to be captured.
Rating
I would rate this guitar a 11 out of 10. This guitar is truly amazing! I have the Ernie Ball Music Man and the Peavey WolfGang and all three have the same feel on the neck. The tone from all of them are different but the same. Its hard to explain.
A word about Doc's work. I may have said this before, but every detail on this guitar is there. From the paint job all the way to the position of the button on the top horn. With all the research he has done to make the best replica, he is the best out there! Period!
Now, While I go back to jamming, check out all my detail pictures in my photo album.